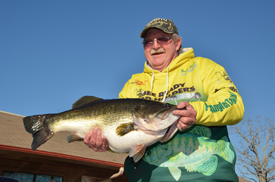 I was reading through a post made at the World Fishing Network today that I thought you'd be interested in reading.
It seems that a very large largemouth bass was caught and released back into the wild through a program called the "Toyota Sharelunker".
Turns out the fish was caught about a year ago and it has grown since it was first caught!
Check out the article:
Huge Largemouth Bass Caught In Texas
The Toyota Sharelunker program sounds like a great idea that every state could use.
What do you think? Drop me a comment down below?
Thanks and I'll catch you later!
Save