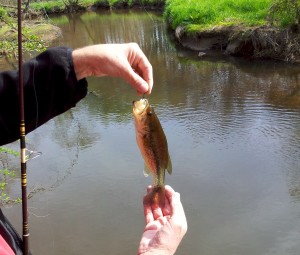 I took my son fishing the other day and it was a nice sunny spring day.
He was disappointed since he didn't catch anything. But he spent more time trying to figure out how to use his new spinning rod and reel combo than anything else. Lots of "bird's nests" with the string and I had to help him many times to get the string untangled.  🙂
He was using bread and a bobber to try to catch some sunnies, but the fish just wouldn't do anything more than nibble.
However, Dad was successful on our first outing of the year!
I managed to catch a small sun-fish, a large-mouth bass and a white perch. And I was using my trusted old "best spring fishing lure" – the Hildebrandt flicker spinner.
Its a size 1 and very small, but the flickering and spinning motion drives the fish wild. If you're interested in picking one up, you can find them on Amazon – here. (Don't pay attention to the picture on amazon, it doesn't have a feather on the hook!) You can see the lure if you click on my picture above to see the full sized picture.
Our fishing was done after about 90 minutes and we determined to change the string in my son's reel to get a more limp string that won't tangle so much.
So for all you fishing "pros" out there, what fishing line do you prefer or use. I'm interested in trying something new!
Any suggestions?
Thanks for your input and I'll catch you later!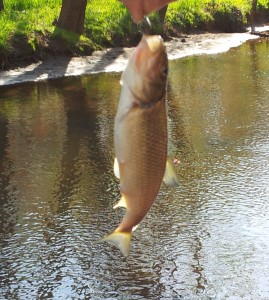 For more Freshwater fishing adventures, click here.